A memorial was held on June 24th, 2018.
Virginia Gould
October 2, 1944 – May 18, 2018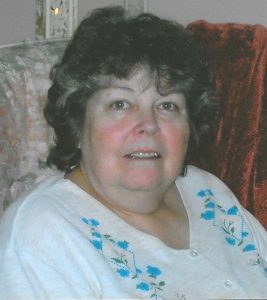 "I am the resurrection, and the life: he that believeth in me, though he were dead, yet shall he live" John 11:25
Born in Cuckfield, Sussex, England, daughter of Mary and Raymond Gould, sister to Sandra, aunt to Deborah (Walter) and grandaunt to Adrianna.
Virginia (Ginny) spent her formative years in England until our family moved to Canada in 1961. Ginny held various jobs over the years, but primarily worked for Bell Canada as an architect until she moved with her mother to Nanaimo, British Columbia in 1989. There she worked in administration at the Nanaimo hospital. Retiring from the hospital in 2001, she returned to Ontario after the birth of her grandniece, Adrianna.
Loyal, sincere, kind, generous, a good sister, friend and more than just an aunt to Debbie, Walter and Adrianna, she was loved and valued as a friend to all her family.
A voracious reader, intelligent and knowledgeable on most subjects, she was your go to if you needed information about anything. She loved to cook and created many tasty delights in Adrianna's Teahouse in Meaford. She enjoyed writing short stories and poetry, into which she infused her great sense of humour. Ginny was loving towards her family, and a lover of animals. She enjoyed recounting their antics, and she was truly funny, possessing the knack of captivating her audience as she regaled them with tales of family happenings.
Having come to a knowledge of the Truth many years ago, Virginia was baptised into the Christadelphian faith in September, 1979, at the Scarlett Road Ecclesia. She fell asleep in Christ on May 18, 2018 and now awaits the glorious resurrection when we all shall be judged when Christ returns to establish his kingdom on earth in Israel.
Though Virginia rests in Christ, her presence here will be greatly missed by all those that loved her.